5th grade students at El Turó de la Peira school have delved into social research throughout this second semester.. To do it, they have chosen a topic that concerned them, violence in the Turó neighborhood, and they've talked about it with the neighborhood, traders and different entities.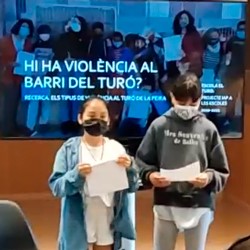 Students at El Turó de la Peira have been investigating the behavior of people in the neighborhood and at school for several months through interviews., surveys and observation. The evolution of neighborhood violence over the years, sexist violence, verbal and animal abuse have been the issues that have concerned them and they have decided to address: "We have done the research with the intention of getting results to get closer to the reality of the neighborhood and be able to do things about it", they explain.
5th graders have learned what social research is as well as some techniques of the Participatory Action Research method., which is characterized by generating action-research processes. Among the conclusions drawn, the following stand out: "According to neighbors, now there is less violence than before. In general people believe that there is not so much violence in the neighborhood. There are more respondents concerned about gender-based violence; violence due to economic dependence has been highlighted. Verbal violence is also very common. Animal abuse is not so worrying ", have observed.
Last Friday 28 in May they shared the results of the study and their experience with representatives of the Nou Barris District, the Sònia Montes Youth Technician and the Turó Participation Councilor, Guillem Gabarnet. The boys and girls enjoyed the fieldwork a lot, especially doing interviews and surveys in the neighborhood, entities and traders, to whom they want to thank for the dedication of their time and sympathy. "From the work we have done, what we liked most was doing the interviews and talking to people, as well as presenting our conclusions at the Nou Barris town hall".
The IAP project in schools has been made possible thanks to the involvement of the El Turó school, especially 5th grade tutors, accompanied by a team of trainers from the UAB School of Social and Urban Policies and the Barcelona Neighborhood Plan.
More information about the #IAPEscoles: https://twitter.com/EscolaIGOP/status/1385564532119162883