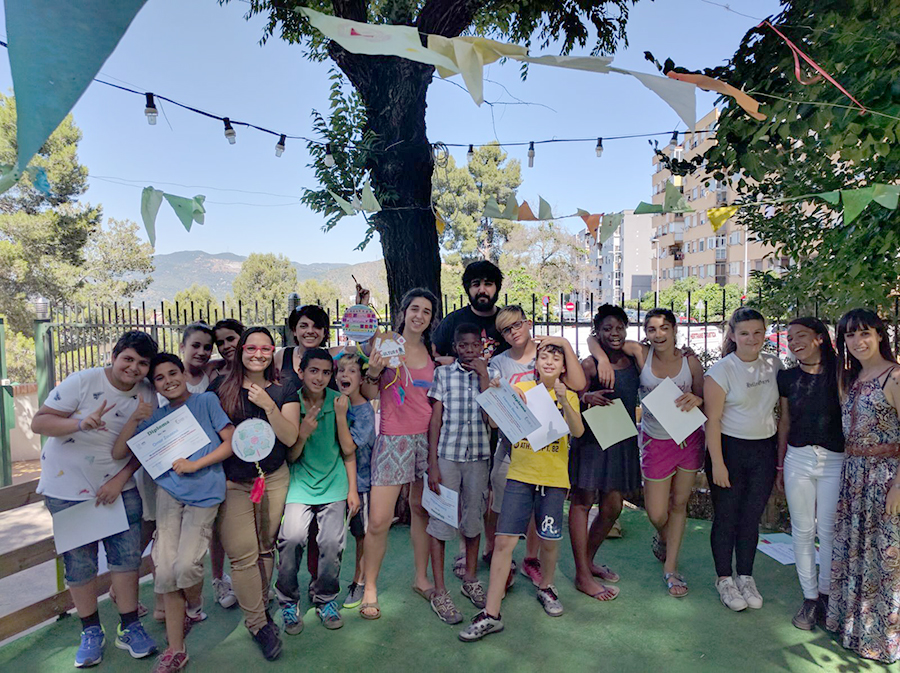 We welcome the twenty people who are starting this 7th edition of the project, which will be part-time, and we hope it will be of great benefit to all the agents involved.
The main objective of the IAP Project is to accompany schools in the link with their territories and nearby communities., així com la voluntat de generar consciència crítica i reflexió entre les i els estudiants de primària i secundària. Per fer-ho realitzem una recerca social on l'equip d'investigació el formem persones vinculades a l'IGOP i l'alumnat d'aquests centres educatius. Junts recorrem totes les fases d'una investigació i presentem els resultats obtinguts a la comunitat, amb la intenció de poder fer una acció per fer front a la situació estudiada i treballada. The students we have worked with are those who study the upper cycle of primary (especially 6th) and the first cycle of ESO (1st of ESO).
This year the first part of the training will consist of online and face-to-face sessions, and the second will take place at several schools in the city.
---
Duration: Free part-time training from October to December 2020 (25 hours in total) and development of internships from January to June 2021.
Calendar of training sessions:
1r QUARTER
22 OCTOBER 2020. PRESENTATION + INTRODUCTION TO EDUCATIONAL INEQUALITIES
(ONLINE: posting videos for free viewing throughout the week).
29 OCTOBER 2020. PARTICIPATORY METHODOLOGIES IN IAP
(ONLINE: posting videos for free viewing throughout the week).
5 NOVEMBER 2020. TUTORIA AND STREAMMING. Of 16 a 18h.
12 NOVEMBER. PARTICIPATORY METHODOLOGIES IN IAP. PRACTICAL PART
(PRESENTIAL: 16-19h, Igop School).
26 NOVEMBER. ROLES DURING SCHOOL CLASSES + THE IAP PROJECT LANDED IN THE CLASSROOMS. WHAT HAPPENS AT EACH SESSION OF THE IAP PROJECT IN EDUCATIONAL CENTERS?
(ONLINE: posting videos for free viewing throughout the week).
3 DECEMBER. ARTISTIC TOOLS IN IAP + APPROACH TO THE TERRITORY OF THE SCHOOL.
(PRESENTIAL. 16-19h, New Trinity).
17 DECEMBER. STREAMMING TUTORING + SELF-ASSESSMENT SESSION. Of 16 a 17h, and of 17 a 18h.
2n QUARTER (January 14 to 28 May): Thursday 15:15 a 16: 30h
Destinataris:
The course is aimed at people interested in learning about new educational methodologies and the School-Community link. Persones vinculades a entitats del lleure o professionals de l'àmbit educatiu (tindran prioritat persones vinculades al territori de Nou Barris)
Objectiu: The course aims to train people in the methodology of Research (or Research) - Participatory Action (IAP) for, posteriorment (de gener a juny del 2018), apply it to various schools.
Content of the training course:
Introduction to educational inequalities;
Research Methodology - Participatory Action in schools;
Participatory classroom methodologies;
Posicionament dins les aules.
Trainers: UAB lecturers i NUS Social and Creative Processes
Places: The number of registrants is limited.
IAP Project Coordinating Team in Schools: Ernesto Morales, Víctor Mirete and Núria Reguero.
Més informació: igop.bcn@uab.cat