Want to know a little better in Graduate Cooperative? We present it to you in 5 minuts! https://vimeo.com/igop/postgrau2015 (Hem ampliat el termini d'admissions fins el 10 November 2015!)
We reformulated the graduate cooperative economy with new times and new training strategy. Starting in January 2015, establishing a closer link between Graduate starter will explain everything Thursday 4 December at 18pm school IGOP. If you can follow the meeting came streaming or watching it since then ...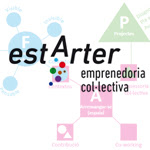 What starter? information in spanish here a collaborative learning experience for collective initiatives, amb manufacturing vocació, facilitating reflections and tools to face the challenges of everyday. Estarter is an initiative from the School of IGOP which has members 10 different institutions: IGOP-UAB, CRIC (editors Options) ...