After the success of the first edition we have prepared starter 2015.
If you are within a entrepreneurship, projecting the initiative col · lectiu and feel the need for tools, ideas, Media … to further develop.
If you are a beginning or circling and want a boost, an excuse to get, a network where support …
If you do not have a plan but would like some time to kick some collective enterprise and want to accumulate strength, ideas, Inspiration, one …
And sigui to earn a living, or transform our context, or experiment with other possibilities … or all at once, You may starter !!
A proposal where we value the experience, practices and experience of university spaces, social movements and associations, Entorn cooperativista of the solidarity economy. In the mix there is strength.
In this edition we have made some changes but in broad terms the essence of the proposal is the same. You know the details on our website: http://www.estarter.cat
Begin after Christmas but since registration opened !! (Take special prices until next 30 November. From 1 December, with prices 10% surcharge).
This time we allowed a Video with testimonials from participants of the first edition. And to our site you can find more videos explaining each section of starter.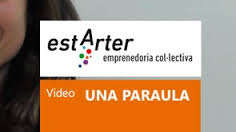 The other entrepreneurs. Published the news "El Periódico de Catalunya" the 3 November 2014.